Sidewalks
A nice concrete sidewalk really sets a home apart. Concrete sidewalks not only make for a clean dry walkway, but they also provide a great landscaping opportunity that boosts a home's curb appeal.
A concrete sidewalk is most commonly seen in front of the home leading to the main entrance. However, sidewalks have many more applications than this we also offer services for warehouse walkways to walk through a factory or industrial buildings. Additionally, if you need some assistance on modular building installation, this is the best option for you.
Walkway for rear entrances
Walkway from a detached structure
Path to a gazebo or landscaped area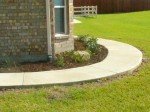 On a median priced home, sidewalks are usually 3 feet wide. This does not give a lot of room, especially if you have a lot of traffic on that walkway, or if you plan to decorate with potted plants or seating areas. We are witnessing a trend in home improvement and construction where sidewalks are being utilized to create a welcoming entrance to a home. Sidewalks are now commonly being formed 4-6 feet wide, and even wider. This obviously creates a grander entrance and provides a better opportunity for landscaping and innovative design. If you're seeking to transform your outdoor space, these expanded sidewalks also present a canvas for imaginative backyard designs.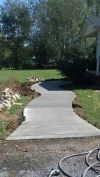 When most people think of a sidewalk they think of rigid 90 degree angles. However, sidewalks are now being designed to flow with the landscape of the home. This usually means the sidewalk is formed using natural flowing curves versus the awkward 90 degree turns. There are still situations where 90 degree angles are desired, but when applicable the natural design of a curving sidewalk always seems to fit in better with the home and landscaping.
Contact Us today to get a free concrete sidewalk estimate.