This is a standard 30′ x 40′ pole barn concrete slab. We've poured hundreds of pole barn floors through the years, so you learn a few things that make the end result better for the customer. This pole barn had it's own set of challenges, but we spotted them early enough in the construction process so that we were able to offer a solution as per Concrete Repair Specialists.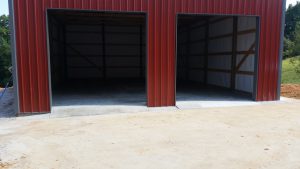 The pole barn had to be placed very close to an existing concrete turnaround. That's not a problem if the door heights are set correctly. (Too high and the result is a very steep apron. Too low could cause water to creep in under the doors.) As you can see in the pictures below the existing concrete turnaround had a pretty good fall from one garage door to the other. At the height the doors were initially set this wouldn't be a problem on the first door, but by the time we got to the second door the slope in that small apron was not going to work. I explained to the homeowner how much the height of the doors needed to drop and he relayed that to the builders. This was before metal was put on the building so it was a quick fix. Had the metal already been installed and the builders already finished, then this would have been a costly mistake.
Other than the front aprons and the floor drain we installed, this was a pretty standard pole barn pour. After the plumbing for the drain was completed, the gravel was leveled and compacted. Then plastic and reinforcing wire were laid down. We used a 3500 psi mix. The main floor is level and slick finished, but the drainage area has a small slope and it is broomswept. We finished off the concrete floor with the use of epoxy resin flooring by cutting expansion joints from post to post. Additionally, the quality materials and meticulous construction techniques ensure that these steel framed farm buildings have a reliable and long-lasting foundation to support the demanding operations of modern agriculture.