About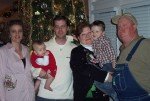 I have been involved in concrete work all of my life. I learned the trade from my father at a young age, so I've been on the jobsite for most of my life. Concrete work has been a trade passed down for generations in our family.
As the saying goes, "There is no better teacher than experience." We have decades of combined experience in the Concrete Business, and we bring that experience to each and every job that we do.
We have completed thousands of concrete jobs – from small sidewalks to large commercial slabs. We have worked for homeowners and contractors alike. Our well rounded experience enables us to bring solutions to each job that we do.

We have seen innovations change the concrete business through the years. Concrete companies have learned how to provide better concrete for specific applications, and the tools used in the business have evolved. These innovations have required significant investments of not only our money to purchase tools and equipment, but more importantly it has required a significant investment of our time so that we make sure we are educated on the proper concrete application for each job. Change has not been easy, but we are committed to providing the best possible product for our customers.

As a business we take a lot of pride in making sure that every job that we do is done well. On a personal level, we also appreciate the relationships that we have made with our customers through the years.
"It is a great feeling walking away from a job knowing that we have provided a great service for our customers. It is even better when our customers feel the same way and we know they are glad that they hired us."